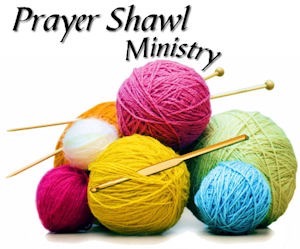 Prayer shawls are tangible symbols of love.  They are warm hugs of empathy and support; a private place of escape in which to rest, relax, and renew; something to hold on to when all else seems to be slipping away. Wrapping others in shawls made with prayer and loving thoughts is the gift. Prayer begins in the heart and the creation of a prayer shawl is a spiritual journey for the shawl maker.
The Portage CUMC Shawl Ministry began in 2004 by a small group of Church women. As of September 1, 2016, 596 shawls have been made and given out to provide comfort and support from the Church community for persons experiencing a life trial.
Prayers are offered as the shawl is constructed. The shawls are then blessed by the congregation during a worship service. Prayer is then offered as the shawl is presented to the individual or organization.
All are invited to be involved in the prayer shawl ministry either by knitting/crocheting shawls, praying for the shawl ministry, donating money for yarn, or by providing the names of persons in need.
Contact Linda Allen or Kathy Bame if you have questions or would like to participate in this important ministry.
http://shawlministry.com/index.htm